Pages with tag Facebook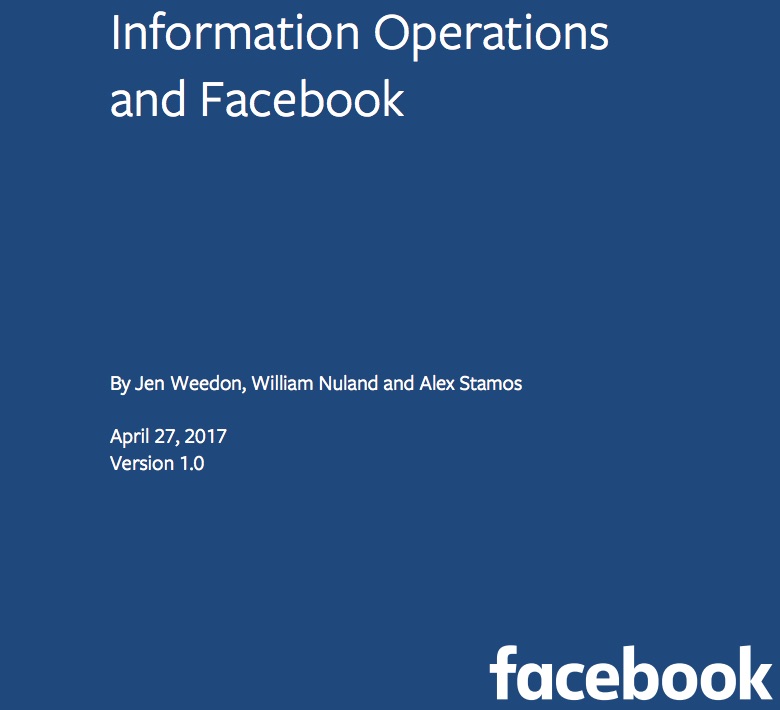 Facebook was used by 'governments' to spread propaganda, says Facebook report
A new report issued by Facebook outlines what they know about propaganda spread by 'Governments' through its website. As Facebook notes, the Internet and sites like Facebook give a whole new realm of possibilities for 'information operations'. Information operations are the are spread by 'organized actors' (governments) to distort political sentiment by distorting the truth. Governments have used such strategies for millennia, but of course the global reach of the Internet changes the game. It's clear now that the 2016 US elections were heavily influenced by a stream of fake news, a large part of which was directed by Russia's intelligence services. Indications are that Russia is now focusing on other elections, including in France where an extreme hard-liner who wants to remove France from the EU and NATO could well be elected. Russia's geopolitical needs would be well served if the EU and NATO were weakened. If government-led information operations really are being conducted over social media networks, shouldn't we call it 'Social Media Warfare'?
Russian think tank planned to influence the U.S. election, new documents reveal
A Russian government-controlled think tank had outlined plans on how to swing the 2016 U.S. election toward Donald Trump, according to a Reuters report Thursday. New documents reveal a strategy of using social media to bolster Mr. Trump and undermine faith in America's electoral system. William Brangham learns more from former CIA officer John Sipher and Ned Parker of Reuters. The Reuters report concerns two 'confidential' documents from the Russian Institute for Strategic Studies, which was part of the successor to the KGB. These documents provide the framework and rationale for Russia's efforts to influence the 2016 US elections.
Russia's disinformation campaign in Europe
The Russian government has invested immense resources into media networks in Europe. The Russian state-media complex has established news and media outlets in the local languages of many European countries through which the Kremlin attempts to influence European discourse and public opinion on the Ukraine crisis. How does the Russian state-media complex use social media, political partnerships, and financial incentives to influence European media outlets? How successful is the media campaign launched by the Russian government? Where are the next targets of the Russian disinformation campaign? How could and should the EU respond?