Pages with tag Russia
Clinton Watts' in-depth explanation of Russia's social media warfare strategy
Last week Security Analyst Clint Watts' explosive testimony in the Senate Intelligence Committee exposed an information warfare system created by the Russian Intelligence services. The strategy includes fake news websites, and fake social media accounts, that worked synergistically together to sow doubt and confusion. They are targeting both individuals and the population at large. A key thing is prior to the Internet, for a country to conduct direct actions in another country required that country to station staff in the target country, and set up organizations like newspapers. With the Internet, they (e.g. the Russians) can stay in their own country, their staff doesn't have to risk traveling to the target country, because it can all be done remotely. In other words, while social media networks (Facebook, Twitter, etc) have arguably enriched our lives, it's possible to build amazing propaganda systems on those networks.
Security Analyst Clinton Watts study of Russian social media fake news streams
In July 2016, immediately following the Attempted Coup in Turkey, fake news appeared on RT News and Sputnik News, both known as Russian Propaganda outlets, claiming that a US Military Base in Turkey had been overrun threatening the security of the large nuclear weapons cache stored at that base. Within a few minutes a whole flotilla of bot accounts on social media systems (Twitter, et al) were echoing the news release. This and other details were the subject of testimony in the Senate Intelligence Committee hearing of March 30, 2017. Clinton Watts was one of those giving testimony, giving us a clue to how social media technology is being currently utilized. The big question is whether Russia's goal ended with Trumps becoming President, or whether they're continuing to meddle in US and European politics. This is a technology story because of the means, that Russia is using channels on the Internet to conduct this warfare.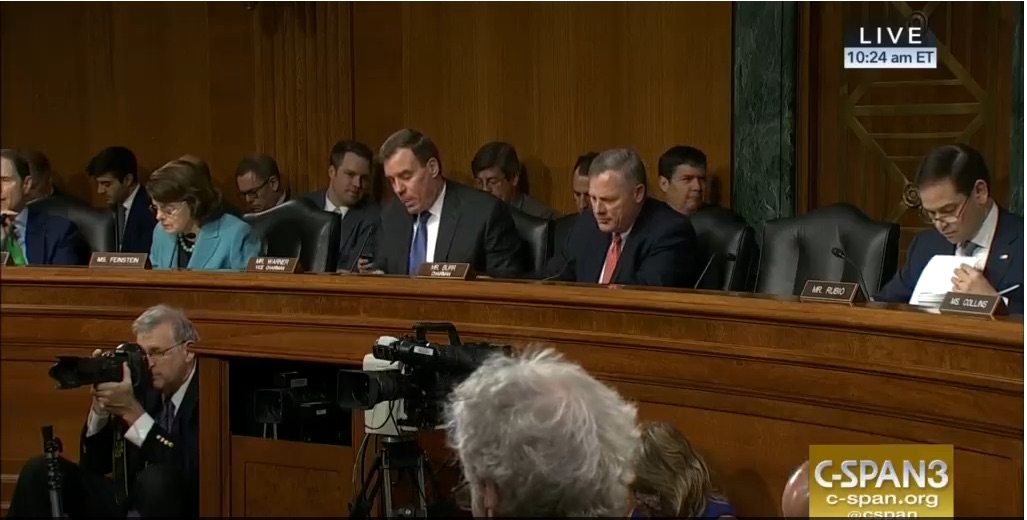 Senate Select Intelligence Committee hearing on Russia's hacking of 2016 elections
In the 2016 elections, it's now clear that Russia's President Vladimir Putin ordered a disinformation campaign aimed to subvert American Democracy and the campaign. They had a clearly preferred winner, Donald Trump, and utilized fake news and networks of social media bots to spread propaganda. The goal appears to be weakening Russia's major adversaries, especially the USA and NATO, so that Russia can act more freely in the world. The method, covert propaganda issued through social media, is a lot less expensive than a fighting war, and less risky since a direct battle between USA and Russia might bring in nuclear weapons. These hearings, conducted by the Senate Intelligence Committee, are very different from the outright circus occurring in the House Intelligence Committee. The discussion focuses on the threat posed by Russia's use of 'active measures', active propaganda usage, and has experts describing the tools and strategies employed by the Russians. Further, the experts describe how the Trump Administration is complicit with Russia, speaking Russia-sourced talking points, and apparently collaborating with Russia.