; Date: Sun Apr 08 2018
As a former Mac Mini owner, and a happy Intel NUC owner, I have one suggestion to Apple regarding the Mac Mini. Make it more like the Intel NUC. Apple should be completely embarrassed that Intel has made a better Mac Mini than the Mac Mini. If Intel can do it to perfection, Apple should be able to do it. But with the direction Apple is taking with its hardware design, an updated Mac Mini is going to be even more locked down than that abomination of a Mac Mini Apple released in 2014.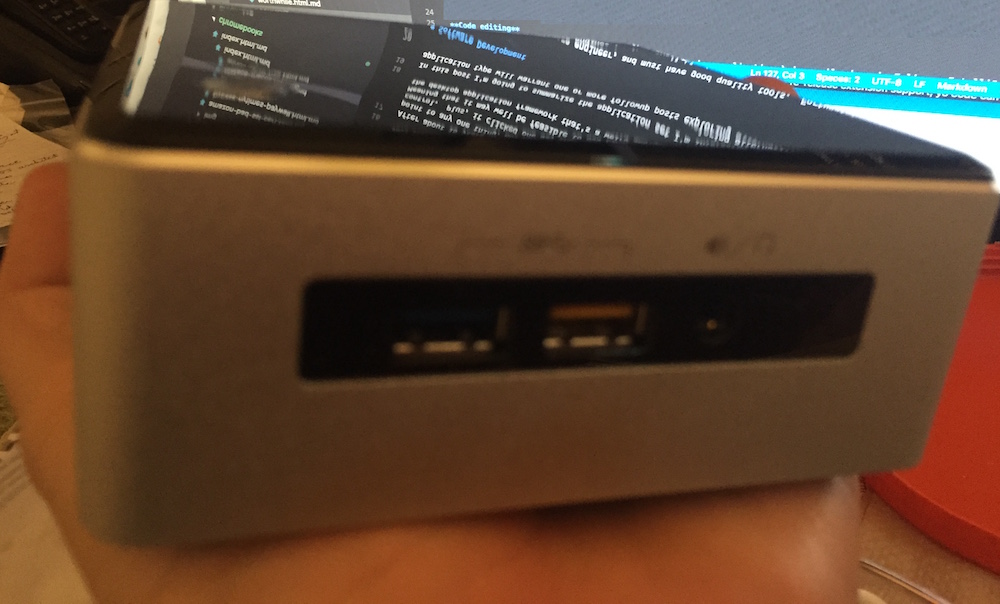 As I wrote in an earlier posting the Intel NUC is an excellent machine. It is everything the Mac Mini should be.
In a machine SMALLER THAN the Mac Mini, Intel crammed in the capabilities to
Completely disassemble the computer to replace any part
Support two storage units - an M.2 SSD, and a 2.5" laptop drive (the computer shown above has a 128GB M.2 SSD and a 340GB spinning HDD)
Core i5 processor (i7 is available)
Support 16GB memory on two sticks
Use a M.2 WiFi card
Several USB3 ports
Wired ethernet port
Full-size HDMI port
Mini Display Port (for two monitor interfaces)
I see the most powerful Intel NUC supports an 8th generation Core i7, up to 32GB memory, two Mini Display Port interfaces, two Thunderbolt 3 ports, an HDMI port, driving up to 6 displays, dual internal drives, a handful of USB3 ports, and more.
In other words, the Intel NUC's are complete powerhouse machines in a tiny box.
The original purpose for the Mac Mini is flexible small computing power at an affordable price. The bring-your-own-screen-and-keyboard-and-mouse idea means a Mac Mini is a small box that can be tucked out of the way into a nook or cranny, and you just use the keyboard/mouse/display you already have.
Apple could be selling a lot of Mac Mini's that have the sort of flexibility Intel offers in the NUC series. Instead Apple doesn't offer such a box, and coincidentally (or not) Mac Mini sales are lackluster.
By comparison, the most Apple offers in the Mac Mini is:
Core i7 processor from an older generation (2014)
Up to 16GB memory - at an expensive premium price because of Apple's pricing strategy
Single drive up to 2TB Fusion drive, or 1TB SSD - non-upgradeable because it's a closed box
Display output via a MiniDisplayPort and HDMI
4x USB3
Gigbit Ethernet
It doesn't stand up to the Intel NUC by any comparison - it's less flexible, less capable, fewer ports, uses older CPU architecture, and so on.
What should Apple do?
The Intel NUC doesn't fit Apple's design ethos. Sigh. That's really too bad because the NUC design is very nice. That black segment on the front is an unnecessary color combination, and there's a few other tweaks that could make the exterior design look more Apple-like.
The simplest route, instead of starting with a blank slate to come up with a more NUC-like design, is to revert back to the 2012 Mac Mini case design. That case design is clumsy to disassemble, but at least users can do it and make useful upgrades include dual drive support.
To modernize the I/O department, the design could go to 2x USB3 ports and 2x Thunderbolt 3 ports. There's a lot of goodness that can be done using Thunderbolt 3.
By keeping to a case design Apple already has in the engineering department, they could get to market more quickly.