; Date: July 10, 2018
Tags: Palmtop PDA »»»» Mobile Computers
The new Gemini PDA is like a Psion 5 reimagined for the modern age. Among the currently available computing devices, there is no equivalent to the clamshell PDA's of old. Instead we have touch screen phones with large screens and soft keyboards. The keyboard is very useful, obviously, and soft on-screen keyboards don't quite cut it. Therefore one hopes the Gemini PDA might encourage other newfangled palmtop computers to appear.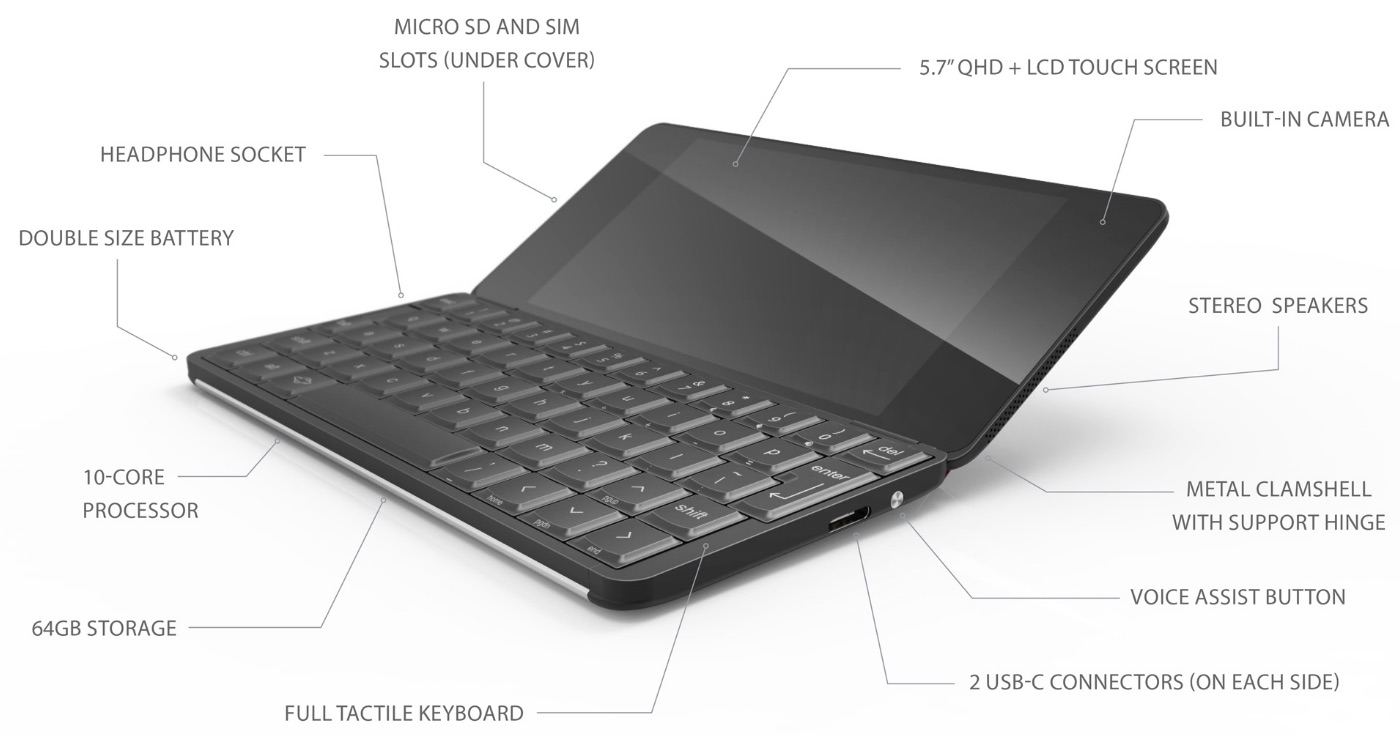 Back in the day - not all that long ago really - palmtop computers ruled the mobile computing landscape. Of course Steve Jobs derided these computers, and sold us on soft keyboards forcing us to poke the screen with our fingers to spell out words. Those of us who type lots of words appreciate the feel of a real keyboard.
Packed into a small unit, 17.14cm(W) x 7.93cm(D) x 1.51cm(H), is a surprising amount of computing capability, a modern smartphone-like screen, and modern connectivity over either WiFi or 4G Wireless. The Gemini PDA has a 10-core ARM, 2 cores at 2.6 GHz, 4 cores at 2.0 GHz, and another 4 cores at 1.6 GHz, along with another ARM Mali as the GPU. It boasts 4GB of RAM, and a 64GB SSD for storage, plus you can insert a MicroSD card for even more storage.
The operating system is Android 7, and there are plans for Android 8. Additionally it can be dual-booted with Linux if that's what you prefer. No doubt a few Linux folks will make it single-boot Linux.
I/O includes an integrated microphone, a front-facing camera (meaning it should be an excellent Skype machine), an accelerometer, a gyro, light sensor, and so on. And as a note to Apple, it has a regular headphone jack.
And - an interesting thing is it does include a telephony application, meaning it is a smart phone -- if you get the version with 4G connectivity.