; Date: Sat May 12 2018
Apple is losing to Intel in the Mini-versus-NUC battle. Ten+ years ago the Mac Mini was a very interesting machine, small enough to stick in a corner so we could put our computing where we want. But Intel's NUC is a better Mini than the Mini ever was, and Intel is selling a ton of NUC's. Apple should be ashamed of themselves.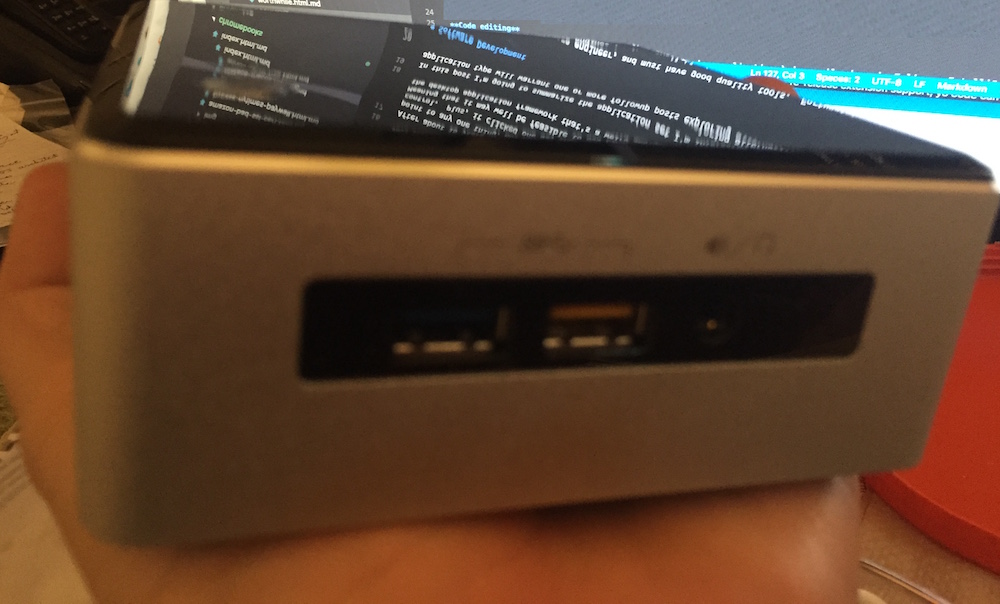 I've owned at least two Mac Mini's over the years and love the concept. But the current Mac Mini models are too constraining because of the inability to take them apart for repairs or upgrades. Apple gouges us on memory prices and that's plain wrong.
The current Mac Mini design and capabilities are simply mediocre. Especially when compared to current Intel NUC designs.
For example the Intel NUC 8 VR NUC8I7HNK -- designed for Gaming, therefore has strong graphics capabilities -- has:
3.1 GHz Intel Core i7-8705G Quad-Core
2 x 2400 MHz DDR4 SO-DIMM Slots -- supporting up to 32GB of 2400MHz RAM
2 x PCIe 3.0 x4 M.2 2242/2280 Slots -- dual SSD storage using compact M.2 cards
AMD Radeon RX Vega M GL Graphics -- powerful enough to run VR applications and play graphically demanding games
SD/SDHC/SDXC Media Card Reader
802.11ac Wi-Fi | Bluetooth 4.2
Supports up to 6 Displays -- two HDMI, two mini-DisplayPort, and two Thunderbolt 3 ports
Multiple USB3 ports including USB-C ports
That's a lot of capability in a small box that uses miniscule amounts of electricity. It's way beyond anything Apple is offering. Apple has to be embarrassed by the situation.
I've written about this previously: