; Date: May 12, 2019
Tags: Apple »»»» MacBook Pro
Apple has released what it calls the fastest Mac laptop ever. The latest MacBook Pro has an 8-core 8th or 9th generation Intel Core processor allowing Apple to claim MacBook Pro now delivers two times faster performance than a quad-core MacBook Pro and 40 percent more performance than a 6-core MacBook Pro.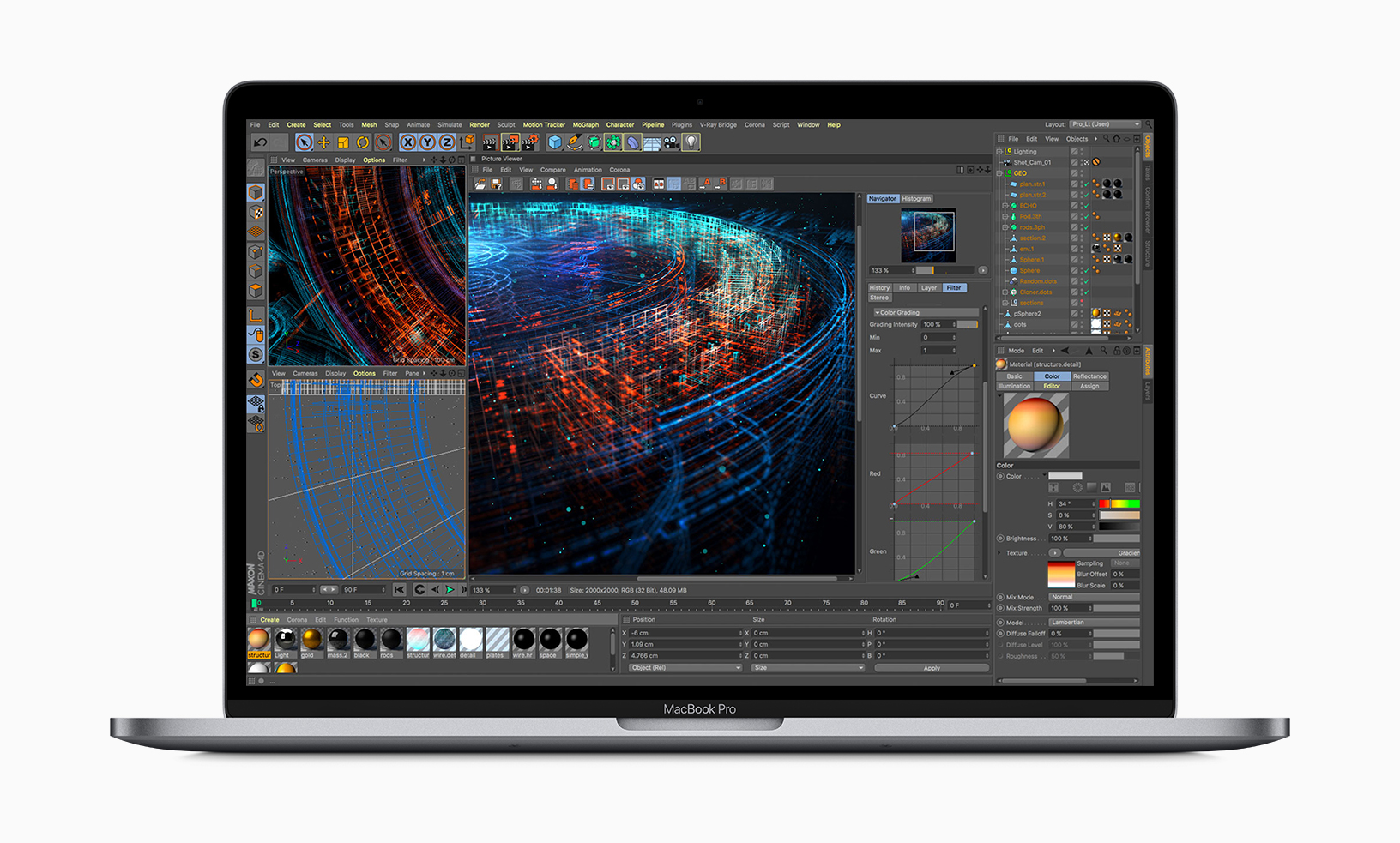 Bottom line is that maybe Apple will supply enough power in these MacBook Pro's to satisfy the naysayers. There has been a growing call for folks to abandon the Mac platform because Apple is overly focused on iPhone and iPad and the Mac's are suffering from a lack of features and lack of power.
Apple claims big things for these latest laptops.
Now with 8-core processors for an incredible performance boost, along with its stunning Retina display, fast storage, all-day battery life and running macOS, MacBook Pro continues to be the world's best pro notebook and we can't wait to get it into our customer's hands to see what they do next.
And
MacBook Pro is more powerful than ever for compiling code, processing high-resolution images, rendering 3D graphics, editing multiple streams of 4K video and more. The 15-inch MacBook Pro now features faster 6- and 8-core Intel Core processors, delivering Turbo Boost speeds up to 5.0 GHz, while the 13-inch MacBook Pro with Touch Bar features faster quad-core processors with Turbo Boost speeds up to 4.7 GHz.
But ... it's been noticed on previous models that, because Apple feels thin/light devices are important, that performance has to suffer. Namely, even though the processor is very powerful, the design will be hampered by an inadequate cooling system and the processor will be thermal-limited when trying to do anything significant.
Obviously it's not known yet whether that's the case. Instead that has been Apple's pattern. That the thin/light size means compromises in other areas, one of which is repairability, and the other being the cooling system.
Availability of the 2019 MacBook Pro
13-inch MacBook Pro with Touch Bar - $1799
15-inch MacBook Pro - $2399
Both are available right now
Pricing for the 2019 MacBook Pro
The starting prices are above.
13 inch MBP with touch bar ... Sigh, they're still including that stupid touch bar. The 13 inch model can only be purchased with a quad-core CPU, either Intel Core i5 or Core i7. Upgrading the memory to 16GB (the max) costs only $200, which is not terribly excessive. But upgrading to a 512GB SSD costs $200 when the street price for a 500GB SSD is under $100. So... Apple is continuing their price-gouging ways.
15 inch MBP ... This is the only model supporting the top end processor. Base price is $2799 and the upgrades are:
| Upgrade | Cost |
| --- | --- |
| 8-core 9th generation Core i7 | $200 |
| 32GB DDR4 memory | $400 |
| Radeon Pro Vega 20 with 4GB of HBM2 memory | $350 |
| 1TB SSD | $400 |
| Final Cut Pro | $299 |
| Logic Pro | $199 |
| Total (minus software) | $4149 |
Some of these prices are what we'd call price gouging. But if you need high power graphics and a high power CPU, the 15 inch model is your only bet.