; Date: Tue Oct 25 2022
Tags: Doctor Who
Surprise, David Tennant is the 14th Doctor, and the schedule says no new episodes until November 2023. And, that new logo looks awfully familiar.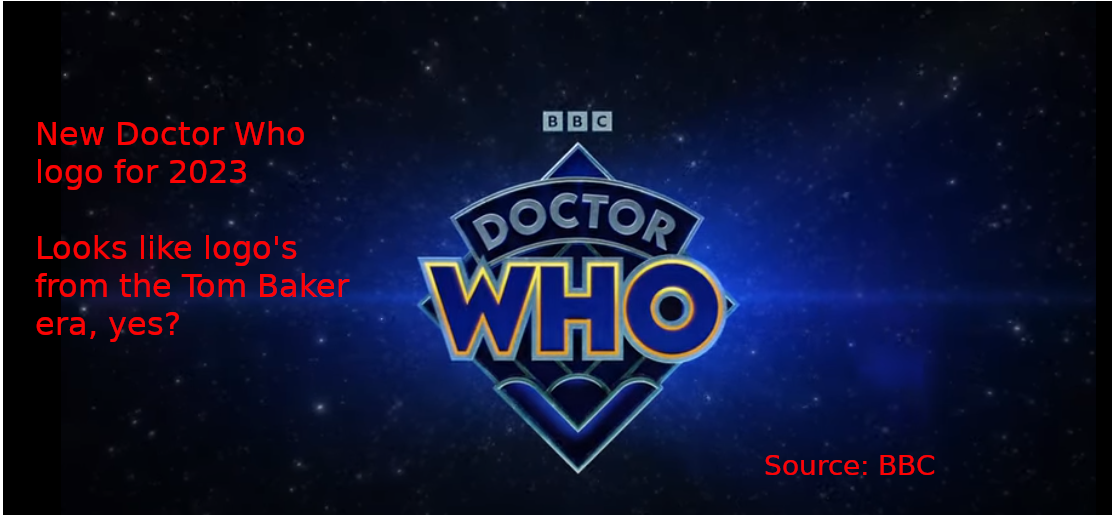 It's late October 2022 and the rate of Doctor Who episode production has slowed down considerably. This year there were three episodes, a rather interesting New Years story, then a horrible story about the Sea Devils in April, and over the weekend was Jodi Whittaker's final episode. Then, in 2020 there was this announcement about the 2021 season: BBC's Chibnall confirms Doctor Who Season 13 shortened to 8 episodes
The Doctor Who schedule for 2023 was announced by the BBC on October 23, 2022, the same day as Whittaker's final episode was aired. While the idea of three back-to-back episodes for the 60th Anniversary is exciting, it means waiting for more than 1 full year for the next episode's of Doctor Who.
There are two things to discuss:
The number of episodes in 2023
The surprise introduction of David Tennant as the 14th Doctor, pushing out Ncuti Gatwa's debut as The Doctor to the 15th Doctor
Doctor Who's schedule for 2023 -- NO HOLIDAY SPECIAL FOR DOCTOR WHO
Since Doctor Who's return in 2005, a big part of the show has been the Christmas Specials that then became the Holiday Specials aired on January 1. But there is no special scheduled for either Christmas Day, 2022, nor for New Years Day 2023.
It was already known that Jodi Whittaker's final episode would happen in late 2022 in the context of the BBC's centenary celebrations. That's the episode shown on October 23, 2022. The previous announcements made no mention of any January 1, 2023 special, only that Ncuti Gatwa would show up related to the 60th Anniversary special. And, the obvious date for that is November 23, 2023.
According to
an official announcement by the BBC the 2023 schedule for Doctor Who is this:
With David Tennant and Catherine Tate reprising their roles for the 60th anniversary, it has been confirmed that they will appear in three special episodes, set to air in November 2023. The next Doctor, played by Ncuti Gatwa, will then take control of the TARDIS, with his first episode airing over the festive period in 2023.
The schedule is therefore:
NO HOLIDAY SPECIAL ON January 1, 2023
Three specials for the 60th Anniversary in November 2023 - obviously a big blowout special on November 23, 2023
A holiday special in 2023 - possibly that means a return to Christmas Day since a New Years Day special would be in 2024
The bottom line is that between October 23, 2022 and an unspecified day in November 2023, there will be zero Doctor Who episodes. After that, we know of four episodes but there is no knowledge of the schedule for Ncuti Gatwa as the 15th Doctor.
WTF David Tennant and Catherine Tate returning?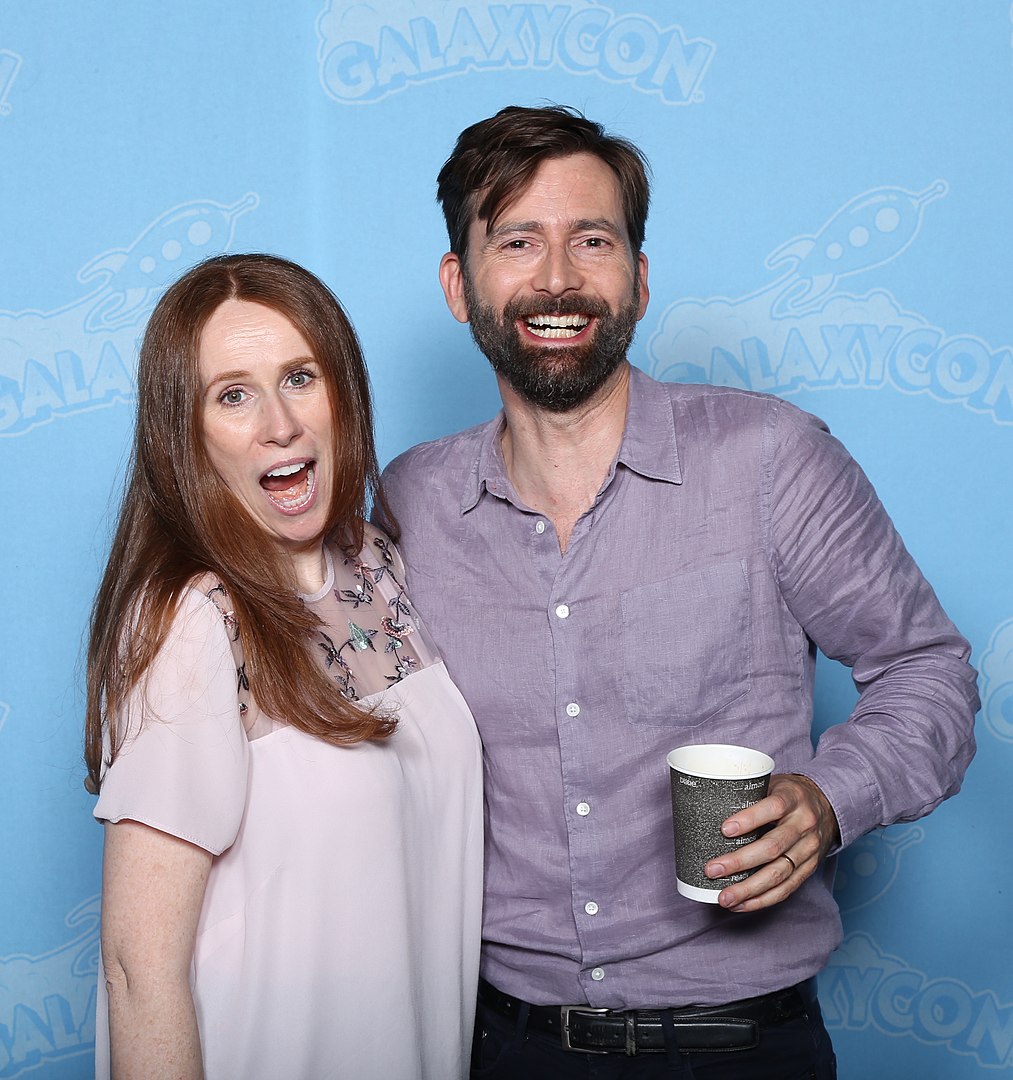 At the tail end of Power of the Doctor, we saw Jodi Whittaker's regeneration scene. That scene could have faded to black with a terse "Doctor Who will return in November 2023" thing, right?
It would have been normal practice to transition directly from Jodi Whittaker to Ncuti Gatwa, even if that transition had to wait until November 23, 2023. But, now, they're suddenly inserting David Tennant as the 14th Doctor.
Make no mistake - the official article announcing this clearly says, Tennant is the 14th Doctor, that he and Catherine Tate will return for three specials in November 2023, and Ncuti Gatwa takes over in the "festive period in 2023".
Further, the regeneration scene clearly showed David Tennant not as a reprisal of the 10th Doctor, but as a whole new regeneration. In other words, he will go down in Doctor Who lore as playing both the 10th and 14th Doctors.
And - BTW - the actual numbering is far more complex than what the BBC is telling us to believe: Smith was 13, Capaldi 14, Whittaker 15, how many regenerations does The Doctor have remaining?
But -- WTF WTF David Tennand and Catherine Tate? (And Bernard Cribbins)
For example -- Donna Noble -- we were told her head would explode if she were to remember having been the DoctorDonna. How will it be that she can interact with the 14th Doctor for three episodes without exploding?
I can buy a Time Lord regenerating into a previous body. We're told that the Time Lords can choose any kind of body, so why not revisit a previous body?
But, why bring back Tennant? Why not proceed directly to the new guy?
Perhaps the BBC wasn't confident enough that Ncuti Gatwa would have been accepted as the new Doctor for the 60th Anniversary special?
The BBC sure isn't saying what's up with that.
The new/old Doctor Who logo
The only constant in Doctor Who is that everything changes. New faces, new villains, new settings, new stories, new companions, new TARDIS's, and new logos.
The new logo for the 2023 season (60th Anniversary) is was announced on YouTube:
https://www.youtube.com/watch?v=pH5z9BB7tWE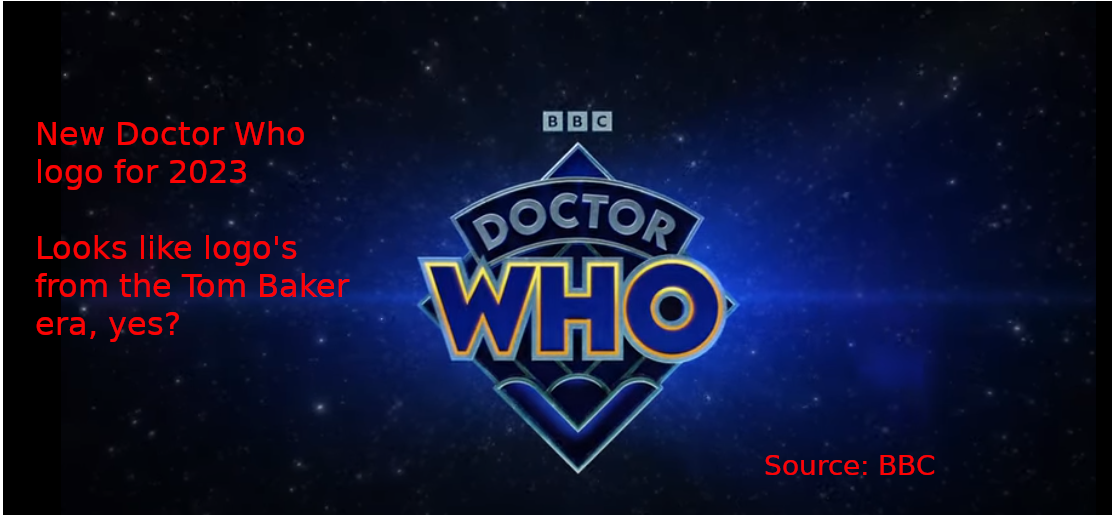 Over on the Wikipedia there is a partial list of Doctor Who logo's over the years:
https://commons.wikimedia.org/wiki/Category:Doctor_Who_logos
This one was used in the Tom Baker era:
There is extreme similarity between the two. What that means remains to be seen.
Directors for 2023 -- and Bernard Cribbins
On the
Wikipedia page for the 60th Anniversary season there are details available.
First - it's not just David Tennant and Catherine Tate, but Bernard Cribbins. That means Wilfrid Mott appears in these episodes. At least we know that Wilfrid won't explode if he remembers The Doctor.
It is noted that Cribbins died shortly after filming finished - that filming started in May 2022, and Cribbins died in July.
Second - the directors for the three specials are Rachel Talalay, Tom Kingsley, and Chanya Button.
Summary
Jodi Whittaker's final episode was more than interesting. But, as always, we have to keep looking towards the future.
David Tennant, Catherine Tate, Bernard Cribbins, that could be a fun romp. Maybe the BBC is desparately trying to save Doctor Who by using known talent.
After that it is Russell T. Davies leading things, and the new guy Ncuti Gatwa.