; Date: Wed Nov 11 2020
Tags: Doctor Who »»»» Doctor Who Season 13
Modern Doctor Who seasons are already way too short. Some fans may have trouble remembering what Doctor Who is by the time time the next season rolls around. In any case, the Doctor Who show runner Chris Chibnall confirmed that Season 13 will be 8 episodes, or three shorter than Season 12 was. The culprit? COVID-19 and the resulting health restrictions. Maybe we should be happy to simply have new Doctor Who on the horizon. But the reality is that we've been shortchanged on Doctor Who seasons since 2015ish.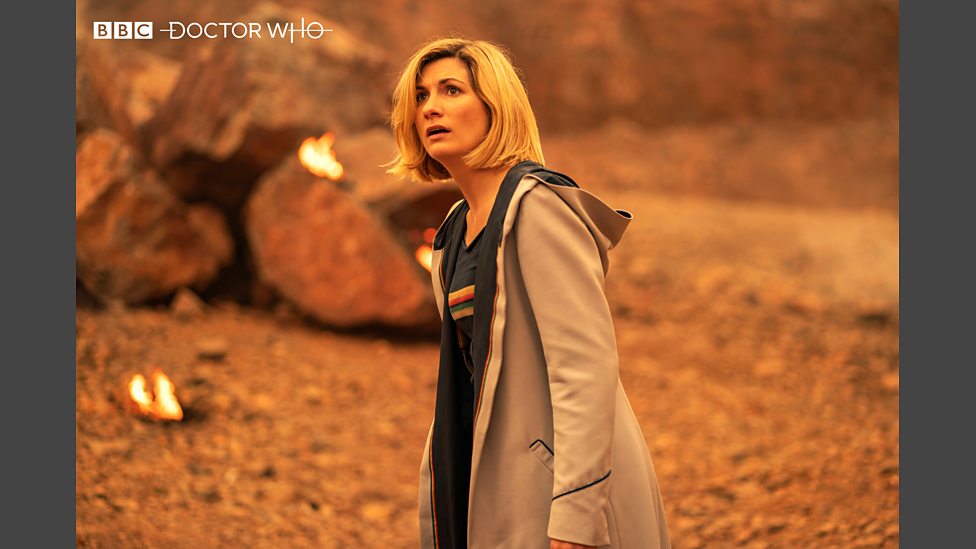 According to The Radio Times (link below), Chris Chibnall said he's "thrilled" to even be making Doctor Who episodes in the current conditions. One supposes that's meant to be a condolence to us, and yes we do understand that times are difficult.
It is understandable that "the new health and safety protocols" must affect all efforts to film any TV show. It is understandable that "each episode of Doctor Who was taking significantly longer to film than previously". That's what life is like in these current times.
"In this strangest of years, the Doctor Who production team have worked wonders to get the show back into production," he said. "Given the complexity of making Doctor Who, and with new and rigorous COVID working protocols, it's going to take us a little longer to film each episode, meaning we expect to end up with eight episodes, rather than the usual 11."
That's where I have some troubles with this statement. Yes, I understand that times are tough, but where did he get "the usual 11". Even the Radio Times article notes this factoid:
Under Chibnall's predecessors Steven Moffat and Russell T Davies, Doctor Who typically ran for 12 episodes per year, plus a Christmas special.
The actual numbers are different than what either the Radio Times or Chibnall says. In fact, the BBC is lying to us.
The following table comes from the list of Doctor Who episodes on
Wikipedia. This is focusing on modern Doctor Who, and does not refer to the episode counts during the classic Doctor Who era.
What we see in the table below is:
That Eccleston got a 13 episode first season
Both Tennant and Smith did 13 episodes per season plus 1 special.

One exception is the 2008-2010 period where there was a full season in 2008, followed by a series of specials in 2009-2010.
Another exception is in 2013, the year of the 50th anniversary special, where there was a 13 episode season that ended in 2013, then two specials in November and December.
But we must recognize that 2013 also saw a large number of additional specials, such as the reenactment of the making of the original Doctor Who, related to the 50th anniversary.

Starting with Capaldi, there were 12 episodes per year plus 1 special

The exception is 2016 where there were zero Doctor Who episodes, other than the 1 special

Starting with Whittaker, we had 10 episodes per year plus 1 special

The exception is 2019 where there were zero Doctor Who episodes, other than the 1 special
In other words, after the 2013 season, coinciding with the 50th anniversary blowout, the pattern of 13 episodes plus 1 special was interrupted. Since then we've had two whole years of no new Doctor Who, and a shrinking of the normal filming schedule.
So.. yes.. COVID .. health restrictions .. we get that .. but, BBC, you've been shafting us on new Doctor Who episodes for a lot longer than this year.
| Season | Dates | # episodes | Lead |
| --- | --- | --- | --- |
| Series 1 | 26 March 2005 to 18 June 2005 | 13 episodes | Christopher Eccleston |
| 2005 Christmas | 25 December 2005 | 1 special | David Tennant |
| Series 2 | 15 April 2006 to 8 July 2006 | 13 episodes | David Tennant |
| 2006 Christmas | 25 December 2006 | 1 special | David Tennant |
| Series 3 | 31 March 2007 to 30 June 2007 | 13 episodes | David Tennant |
| 2007 Christmas | 25 December 2007 | 1 special | David Tennant |
| Series 4 | 5 April 2008 to 5 July 2008 | 13 episodes | David Tennant |
| 2008-2010 specials | 25 December 2008 to 1 January 2010 | 5 specials | David Tennant |
| Series 5 | 3 April 2010 to 26 June 2010 | 13 episodes | Matt Smith |
| 2010 Christmas | 25 December 2010 | 1 special | Matt Smith |
| Series 6 | 23 April 2011 to 1 October 2011 | 13 episodes | Matt Smith |
| 2011 Christmas | 25 December 2011 | 1 special | Matt Smith |
| Series 7 | 1 September 2012 to 18 May 2013 | 13 episodes | Matt Smith |
| 2012 Christmas | 25 December 2012 | 1 special | Matt Smith |
| 2013 Specials | 23 November 2013 to 25 December 2013 | 2 specials, 50th anniversary | Matt Smith |
| Series 8 | 23 August 2014 to 8 November 2014 | 12 episodes | Peter Capaldi |
| 2014 Christmas | 25 December 2014 | 1 special | Peter Capaldi |
| Series 9 | 19 September 2015 - 5 December 2015 | 12 episodes | Peter Capaldi |
| 2015 Christmas | 25 December 2015 | 1 special | Peter Capaldi |
| 2016 Christmas | 25 December 2016 | 1 special | Peter Capaldi |
| Series 10 | 15 April 2017 to 1 July 2017 | 12 episodes | Peter Capaldi |
| 2017 Christmas | 25 December 2017 | 1 special | Peter Capaldi |
| Series 11 | 7 October 2018 to 9 December 2018 | 10 episodes | Jodi Whittaker |
| 2019 New Year | 1 January 2019 | 1 special | Jodi Whittaker |
| Series 12 | 1 January 2020 to 1 March 2020 | 10 episodes | Jodi Whittaker |
| 2020 ?special? | Unknown date | 1 special | Jodi Whittaker |
| Series 13 | Unknown dates | 8 episodes | Jodi Whittaker |
News source:
Radio Times