; Date: Mon Jun 04 2018
Tags: Microsoft »»»» Github »»»» Open Source
Invoking memories of The Empire Strikes Back when Lando Calrissian warns everyone in his city that the Empire has taken over, I awoke this morning to news that Microsoft is buying Github. Microsoft has long been the arch enemy of open source advocates like myself. But the irony in this is that I'm a happy user of Microsoft's Visual Studio Code, and am using that editor to write this post. Truth is that Microsoft is seeming to be changing for the better.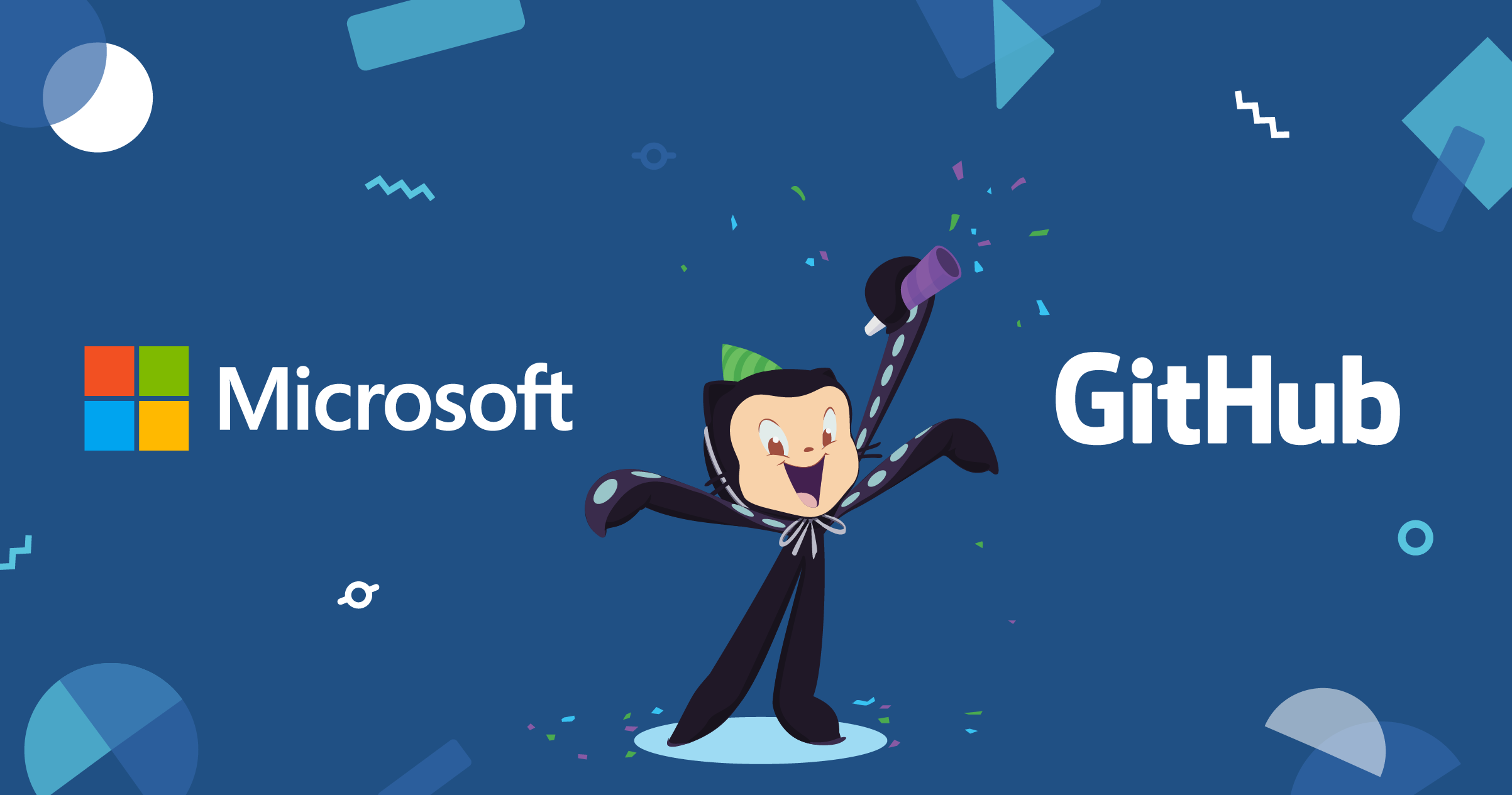 In 1997, I worked for VXtreme, an early player in the streaming video field. That period, 1996-7, was the initial phase of developing streaming video over the Internet. It was a minor miracle that anyone could get reasonable quality video squeezed through a 56KB modem, but we did. There were several companies competing in the space -- Real Video, VXtreme, Microsoft, and perhaps one or two others. One day upon arriving at the office, we were all called into the lunch-room for an unannounced meeting. At the front of the room was a couple people we'd never seen before, who introduced themselves as representatives of Microsoft's acquisitions division. They explained that Microsoft was buying VXtreme, and as they did my anger grew and grew until I was livid. But, could I say anything? Nope. So I held my tongue.
Maybe there is a Github employee or two who has a similar feeling today.
Oh, and a point of interest. Microsoft does enough company-acquiring activity to require a whole division of folks staffed for that purpose - as far back as 1997.
There's a whole line of distraction in my mind to retell about the experience, but let's focus on the Github acquisition and what it might mean for "us" - the software developers of the world.
Github is the largest provider of source code hosting and project management services. By no means is Github the only choice in this field. In other words, we are free to vote with our feet and move to other Git repository platforms.
Positive note - they say it's about "empowering developers". But, as we'll see in examining the statements, Microsoft's goal is to somehow leverage Github for more exposure of Microsoft's developer tools. As always, Microsoft's core business focus has been to control the software world. In the past that control was about pushing Internet Explorer to be the sole web browser and therefore control the Internet, or to push Windows to be the sole operating system and therefore control what operating system we all use. That was the Microsoft-of-old, and we must recognize that today's Microsoft is much different.
By the way, in my job previous to VXtreme I worked for Mainsoft. We developed a GUI Toolkit allowing developers to compile WIN32/MFC applications to run on Unix/X11 systems. Initially that toolkit was developed by reverse engineering the WIN32 API, but in 1995 we acquired a license to Microsoft Windows and began integrating some source code from the Windows NT v4 source tree. During my time with Mainsoft we became involved with porting Internet Explorer to run on Unix. When I say Microsoft wanted their web browser to be the sole web browser, I speak from knowledge of having-been-there-done-that.
The first move - replacing the Github CEO - is troubling. It means that whatever happens going forward will be guided by a different leadership team than the team which guided Github so far. It's common for an incoming CEO to hire a new team, replacing the old team. Therefore we can expect some forthcoming departures and new hires?
However, Github's CEO had announced last year he wanted to step down from that role and serve an advisory role to Github. In a way, this deal with Microsoft is the result of his desire to stop being Github's CEO.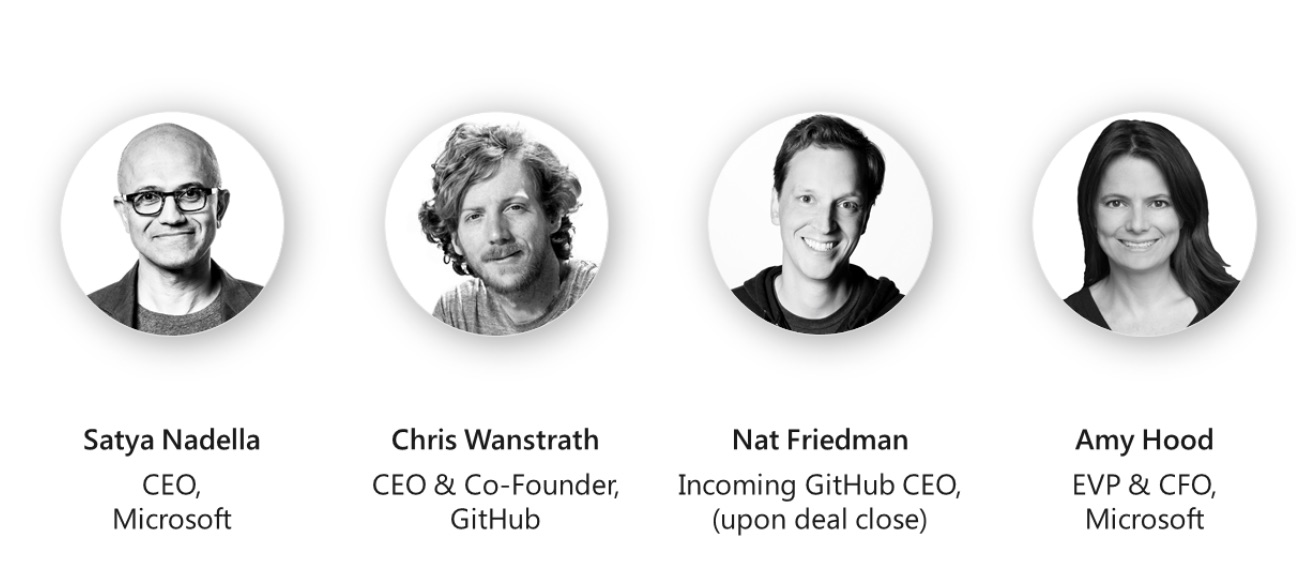 A conference call was held to discuss the acquisition. (
https://edge.media-server.com/m6/p/eudfciq3) Microsoft CEO Satya Nadella started by noting how Software is at the leading edge of social and technological change. "The era of the intelligent cloud and the intelligent edge is upon us. Computing is becoming embedded in the world in every part of our daily life, and work. Every aspect of our economy and society is being transformed by digital technology. And developers are the builders of this new era, writing the worlds code."
Nadella demonstrates some blinders - the word "Developers" can easily apply to other fields, like real estate developers. Obviously he means Software Developers, but by using a generic word this way shows a mindset.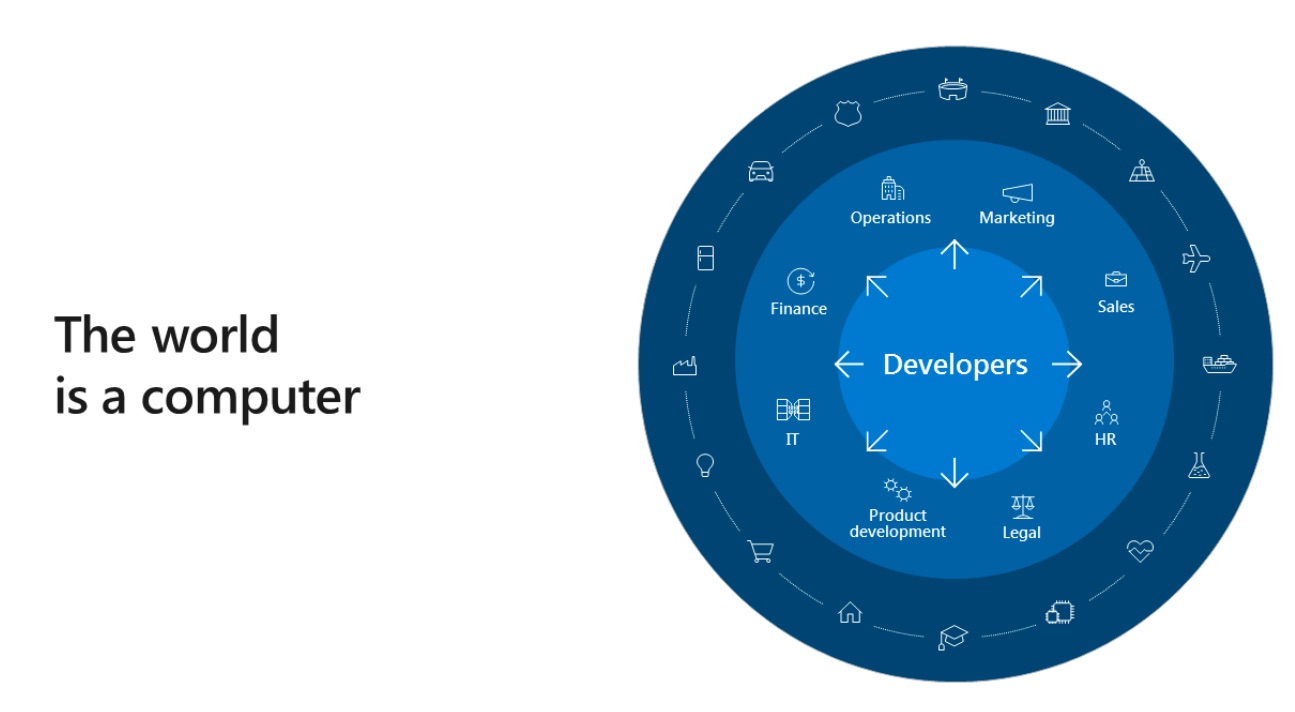 In the conference call they present the idea that Microsoft's and Github's core mission are extremely aligned (?? so we all should not worry??):
Microsoft: Empower every person and every organization on the planet to achieve more
Github: Built for Developers -- to learn, share, and work together to build software

In what may be a doubling-down on trying to allay fears and worries, Nadella tries to make a case that Microsoft loves open source. He said that Microsoft "has been on a journey with open source and the open source community." He promised that "Today we are ALL-IN with open source." Nadella claims that Microsoft is "active in the open source ecosystem," that they "contribute to open source projects," and that some of their "most vibrant developer tools and frameworks are open sourced."
Nadella asks us to "judge [Microsoft] for the actions we have taken in the recent past, our actions today, and our actions in the future."
That's nice. Do I completely buy it? No. But I have to recognize Microsoft's contribution to Node.js, and the editor that I am using to write this post, and other contributions.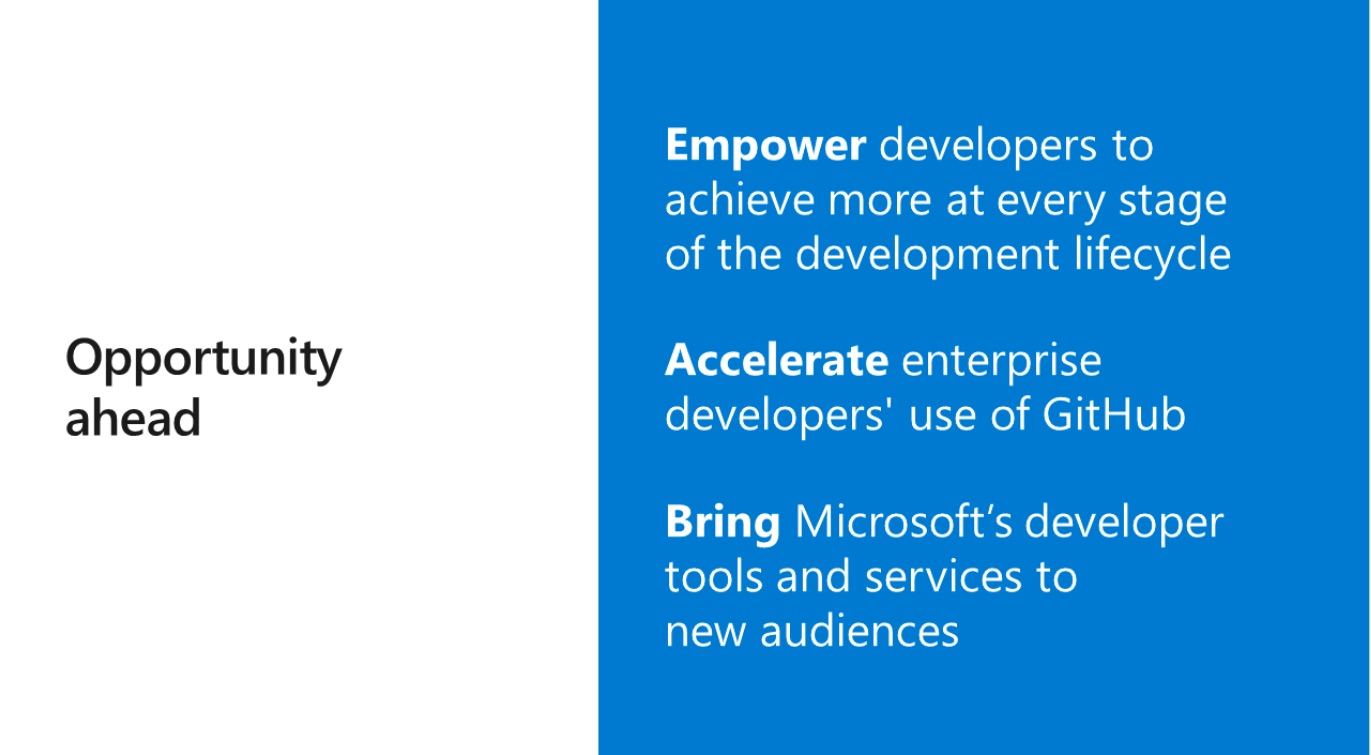 This is what Nadella then presented as the goal for this acquisition.
Empower developers to achieve more at every stage of the development lifecycle
Accelerate enterprise developers use of Github
Bring Microsoft's developer tools and services to new audiences
Mostly these are good goals, BUT. Will we begin to see a preferencing of Microsoft's tools on Github? Isn't that what these goals imply? That Github will now become an outlet for Microsoft's developer outreach? Will Github simply be folded into MSDN?
Nadella makes a promise: "Going forward Github will remain an open platform which any developer can plug into and extend. Developers will continue to be able to use the programming languages and tools and operating systems of their choice for their projects. And will still be able to deploy their code to any cloud and any device."
Good statement. That Nadella is having to stress over and over and over that Microsoft will be a benign owner of Github should make us all worry over their intentions for Github. As the saying goes, methinks they protesteth too much.
PRESS RELEASE: Microsoft to acquire GitHub for $7.5 billion
June 4, 2018 | Microsoft News Center
Acquisition will empower developers, accelerate GitHub's growth and advance Microsoft services with new audiences
From left: Chris Wanstrath, Github CEO and co-founder; Satya Nadella, Microsoft CEO; and Nat Friedman, Microsoft corporate vice president, Developer Services
REDMOND, Wash. — June 4, 2018 — Microsoft Corp. on Monday announced it has reached an agreement to acquire GitHub, the world's leading software development platform where more than 28 million developers learn, share and collaborate to create the future. Together, the two companies will empower developers to achieve more at every stage of the development lifecycle, accelerate enterprise use of GitHub, and bring Microsoft's developer tools and services to new audiences.
"Microsoft is a developer-first company, and by joining forces with GitHub we strengthen our commitment to developer freedom, openness and innovation," said Satya Nadella, CEO, Microsoft. "We recognize the community responsibility we take on with this agreement and will do our best work to empower every developer to build, innovate and solve the world's most pressing challenges."
Under the terms of the agreement, Microsoft will acquire GitHub for $7.5 billion in Microsoft stock. Subject to customary closing conditions and completion of regulatory review, the acquisition is expected to close by the end of the calendar year.
GitHub will retain its developer-first ethos and will operate independently to provide an open platform for all developers in all industries. Developers will continue to be able to use the programming languages, tools and operating systems of their choice for their projects — and will still be able to deploy their code to any operating system, any cloud and any device.
Microsoft Corporate Vice President Nat Friedman, founder of Xamarin and an open source veteran, will assume the role of GitHub CEO. GitHub's current CEO, Chris Wanstrath, will become a Microsoft technical fellow, reporting to Executive Vice President Scott Guthrie, to work on strategic software initiatives.
"I'm extremely proud of what GitHub and our community have accomplished over the past decade, and I can't wait to see what lies ahead. The future of software development is bright, and I'm thrilled to be joining forces with Microsoft to help make it a reality," Wanstrath said. "Their focus on developers lines up perfectly with our own, and their scale, tools and global cloud will play a huge role in making GitHub even more valuable for developers everywhere."
Today, every company is becoming a software company and developers are at the center of digital transformation; they drive business processes and functions across organizations from customer service and HR to marketing and IT. And the choices these developers make will increasingly determine value creation and growth across every industry. GitHub is home for modern developers and the world's most popular destination for open source projects and software innovation. The platform hosts a growing network of developers in nearly every country representing more than 1.5 million companies across healthcare, manufacturing, technology, financial services, retail and more.
Upon closing, Microsoft expects GitHub's financials to be reported as part of the Intelligent Cloud segment. Microsoft expects the acquisition will be accretive to operating income in fiscal year 2020 on a non-GAAP basis, and to have minimal dilution of less than 1 percent to earnings per share in fiscal years 2019 and 2020 on a non-GAAP basis, based on the expected close time frame. Non-GAAP excludes expected impact of purchase accounting adjustments, as well as integration and transaction-related expenses. An incremental share buyback, beyond Microsoft's recent historical quarterly pace, is expected to offset stock consideration paid within six months after closing. Microsoft will use a portion of the remaining ~$30 billion of its current share repurchase authorization for the purchase.
Simpson Thacher & Bartlett LLP is acting as legal advisor to Microsoft. Morgan Stanley is acting as exclusive financial advisor to GitHub, while Fenwick & West LLP is acting as its legal advisor.
Media & Analyst Conference Call
Nadella, Friedman, Wanstrath and Microsoft Chief Financial Officer Amy Hood will host a joint conference call for media today, June 4, 2018, at 7 a.m. Pacific/10 a.m. Eastern to discuss this transaction. The call will be available to international callers at +1 (201) 689-8023 (no password required), to U.S. callers at (877) 407-0666 (no password required), or via webcast at
https://edge.media-server.com/m6/p/eudfciq3 at that time. More information is available on http://news.microsoft.com.
Additional details will be available when the acquisition closes.
About GitHub
GitHub is the developer company. We make it easier for developers to be developers: to work together, to solve challenging problems, to create the world's most important technologies. We foster a collaborative community that can come together — as individuals and in teams — to create the future of software and make a difference in the world.
About Microsoft
Microsoft (Nasdaq "MSFT" @microsoft) enables digital transformation for the era of an intelligent cloud and an intelligent edge. Its mission is to empower every person and every organization on the planet to achieve more.
Forward looking statements
This press release contains forward-looking statements, which are any predictions, projections or other statements about future events based on current expectations and assumptions that are subject to risks and uncertainties. The potential risks and uncertainties include, among others, that the expected financial and other benefits from the GitHub transaction may not be realized, including because of: the risk that the transaction may not be completed in a timely manner or at all; any restrictions or limitations imposed by regulatory authorities; the impact of the acquisition on GitHub's developer community and enterprise customers; the extent to which we achieve anticipated financial and buyback targets; the impact of management and organizational changes on GitHub's business; the impact on GitHub employees and our ability to retain key personnel; our effectiveness in integrating the GitHub platform and operations with Microsoft's business; and our ability to realize our broader strategic and operating objectives. Actual results may differ materially from the forward-looking statements because of these and other risks and uncertainties of our business, which are described in our filings with the Securities and Exchange Commission ("SEC"), including our Forms 10-K and 10-Q. Forward-looking statements speak only as of the date they are made. Readers are cautioned not to put undue reliance on forward-looking statements, and Microsoft undertakes no duty to update any forward-looking statement to conform the statement to actual results or changes in the company's expectations.