; Date: May 29, 2020
Tags: Social Media Networks »»»» President Trump
In what is sure to earn another Trump tirade, Twitter has put a warning on his tweet this morning threatening a violent response to protests in Minneapolis. Unfortunately, Black Lives Matter protests in Minneapolis (and elsewhere around the country) have seen some violence, with a police station burned, other buildings burned, a shooting in another city, and so forth. Into this maelstrom of emotional outburst, Pres. Trump threatens to start shooting people, causing Twitter to add a label reading "This Tweet violated the Twitter Rules about glorifying violence. However, Twitter has determined that it may be in the public's interest for the Tweet to remain accessible."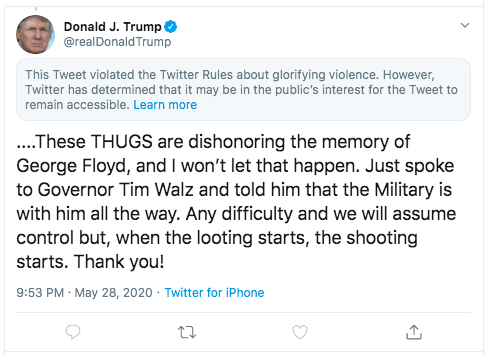 A few days ago a black man was killed by police officers in Minneapolis. The killing was in broad daylight, in the middle of the street, during an arrest, when a police officer kneeled on the guy's neck until he choked to death. Given that this is only the umpteenth time police have killed black people in recent years, the incident has sparked a wave of protests. Those protests are not just in Minneapolis, but in other cities across the country.
The question is whether Pres. Trump's tweets warranted this response by Twitter? Or, did Twitter overstep its authority in placing such a warning on the President's tweet? Twitters action comes on the heels of Pres. Trump's Executive Order calling for a review by the Commerce and Justice Departments of not just Twitter but Facebook and other platforms, and a call for legislation aimed at these companies.
Social network operators are expected to maintain order. Over the years many have complained about a lack of action against rampant hate speech, false news, and other content. Pres. Trump in particular routinely violates Twitter's rules on its platform, yet Twitter takes very little action against him. Why is that?
This puts the social media networks in a quandary. On the one hand they're routinely criticized for lack of action against the abuse occurring through social media networks, and on the other hand many complain that Twitter is censoring.
But we have here an example of a person, Pres. Trump, who has frequently said incendiary things through Twitter and other places. The tweet in question clearly was yet another incendiary statement. Or, to take a sample of the responses on Twitter: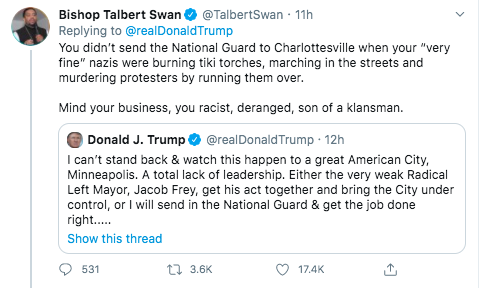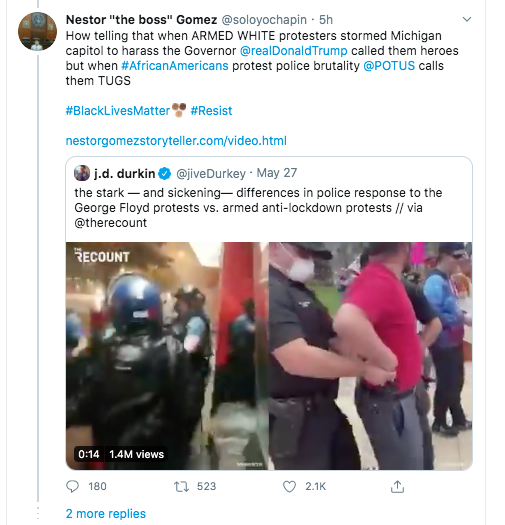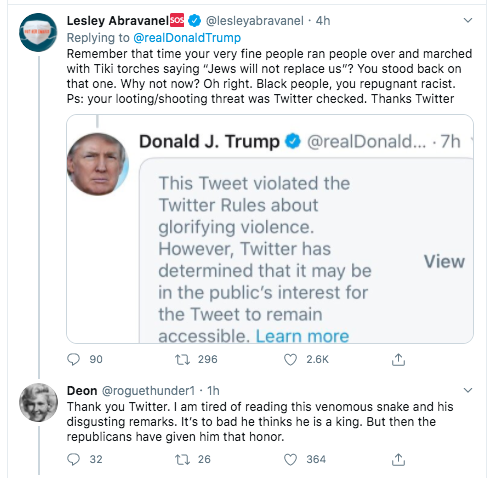 There is plenty more responses like this to Pres. Trump's tweets. The point is, this level of vitriol against Pres. Trump is a result of his long-standing practice of saying incendiary things like this.
For other response let's turn to the news stream:




That one refers to
an incident in July 2017 where President Trump, during a speech to Police Officers, said:
"When you see these thugs being thrown into the back of a paddy wagon, you see them thrown in rough. I said, 'Please don't be too nice.' Like, don't hit their head and they've just killed somebody. I said, 'You can take the hand away, OK?'"
He added, "When you guys put somebody in the car and you're protecting their head you know, the way you put their hand over [their head]. Like, 'Don't hit their head and they've just killed somebody, don't hit their head.' I said, 'You can take the hand away, OK?'"
In other words, Pres. Trump has a long history of encouraging violence. Plenty of people around the country are aghast at the things he says.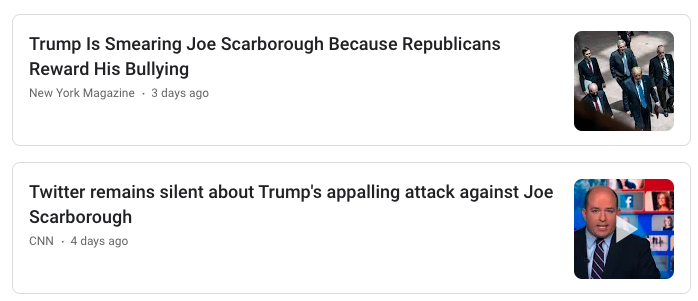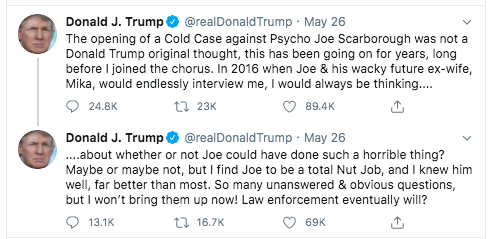 This is a case where Twitter is being called to task for not enforcing rules when it comes to Pres. Trump's tweets. In this case Pres. Trump has repeatedly attacked Joe Scarborough over being responsible for an ex-aide's death. The attacks have been so extreme, and repeated, that the family of that ex-aide is distraught, and had personally approached Twitter about can't they please do something about this.
It is very easy to find other similar attacks by Pres. Trump against his perceived enemies.
Twitter's policies
The link Twitter put on Pres. Trump's tweet leads to
About public-interest exceptions on Twitter: Defining the public interest
This is Twitter's general policy statement about this, apparently because this is not the first time Twitter has had to consider this sort of action. This page starts with the statement that:
Twitter generally actions Tweets that violate our rules.
Meaning, that Twitter generally takes action like hiding or removing tweets that violate the rules. But in some cases Twitter deems that a tweet or a personage is important enough to leave the tweet in place, even when it violates the rules.
The page then goes on to explain those rules, just so we know that Twitter has a framework within which these things are being judged.
The stated criteria for exceptions are:
The Tweet violates one or more Twitter Rules;
The Tweet was posted by a verified account;
The account has more than 100,000 followers; and,
The account represents a current or potential member of a local, state, national, or supra-national governmental or legislative body:

Current holders of an elected or appointed leadership position in a governmental or legislative body, OR
Candidates or nominees for political office.
Pres. Trump certainly fits within the criteria for exemptions from normal enforcement actions.
However, reading Twitter's description of their rules has me scratching my head in wonderment. Pres. Trump repeatedly violates these rules, yet Twitter takes very little action against him.
Terrorism / violent extremism: You may not threaten or promote terrorism or violent extremism.
Violence: You may not threaten violence against an individual or a group of people. We also prohibit the glorification of violence.
Illegal or certain regulated goods or services: You may not use our service for any unlawful purpose or in furtherance of illegal activities. This includes selling, buying, or facilitating transactions in illegal goods or services, as well as certain types of regulated goods or services.
Suicide or self-harm: You may not promote or encourage suicide or self-harm.
Election integrity: You may not use Twitter's services for the purpose of manipulating or interfering in elections. This includes posting or sharing content that may suppress voter turnout or mislead people about when, where, or how to vote.
Private information: You may not publish or post other people's private information (such as home phone number and address) without their express authorization and permission. We also prohibit threatening to expose private information or incentivizing others to do so.
Hateful conduct: You may not promote violence against, threaten, or harass other people on the basis of race, ethnicity, national origin, sexual orientation, gender, gender identity, religious affiliation, age, disability, or serious disease.
Abuse / harassment: You may not engage in the targeted harassment of someone, or incite other people to do so.
Sensitive media: You may not share any media that depicts excessively graphic or gruesome content related to death, violence or severe physical harm, or violent content that is shared for sadistic purposes.