; Date: Thu Feb 14 2019
Tags: Amazon »»»» High Technology
In November, Amazon stunned folks across the country by announcing plans to build an HQ2 facility in Queens NY, and another HQ2 facility in Arlington VA. The Queens location became controversial almost immediately, and today Amazon announced cancellation of the Queens HQ2 project. In canceling the project, Amazon said they would not reopen the HQ2 search at this time, meaning Amazon is missing out yet again on the opportunity to expand in the Midwest.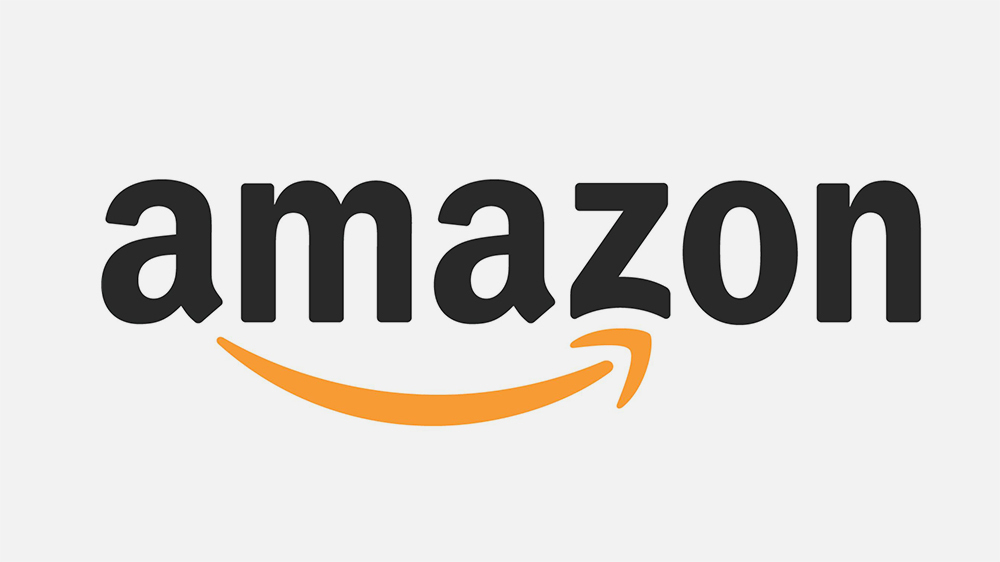 In my earlier coverage of the Amazon HQ2 announcement I noted a statement by Congressman Ro Khanna calling for tech companies expansion to occur outside the Big Cities.
As it stands the Tech Industry is a massive driver of growth and wealth, but the industry is highly concentrated in a few select zip codes around the country. Silicon Valley, where Khanna's district sits, is the prime example of the localized Tech Industry. There are a lot of wealthy people here, thanks to the success of the Tech Industry in recent years. But that creates an extremely high cost of living and other problems, while the rest of the USA is left out of the game. While there are a few other Tech Industry hubs like Austin TX, or Boston MA, or Seattle WA, or Portland OR, the Tech Industry is highly concentrated in those locales instead of being more evenly spread across the country.
What Rep. Khanna suggested is that there are many University towns across the country which could sustain a local tech startup company incubation bubble. That's the secret to Silicon Valley, that Stanford Univ, UC Berkeley, and other Universities in the area collaborate with venture capitalists to convert research into startup companies. There is nothing magical about Silicon Valley (other than the climate) which couldn't be replicated near other Universities.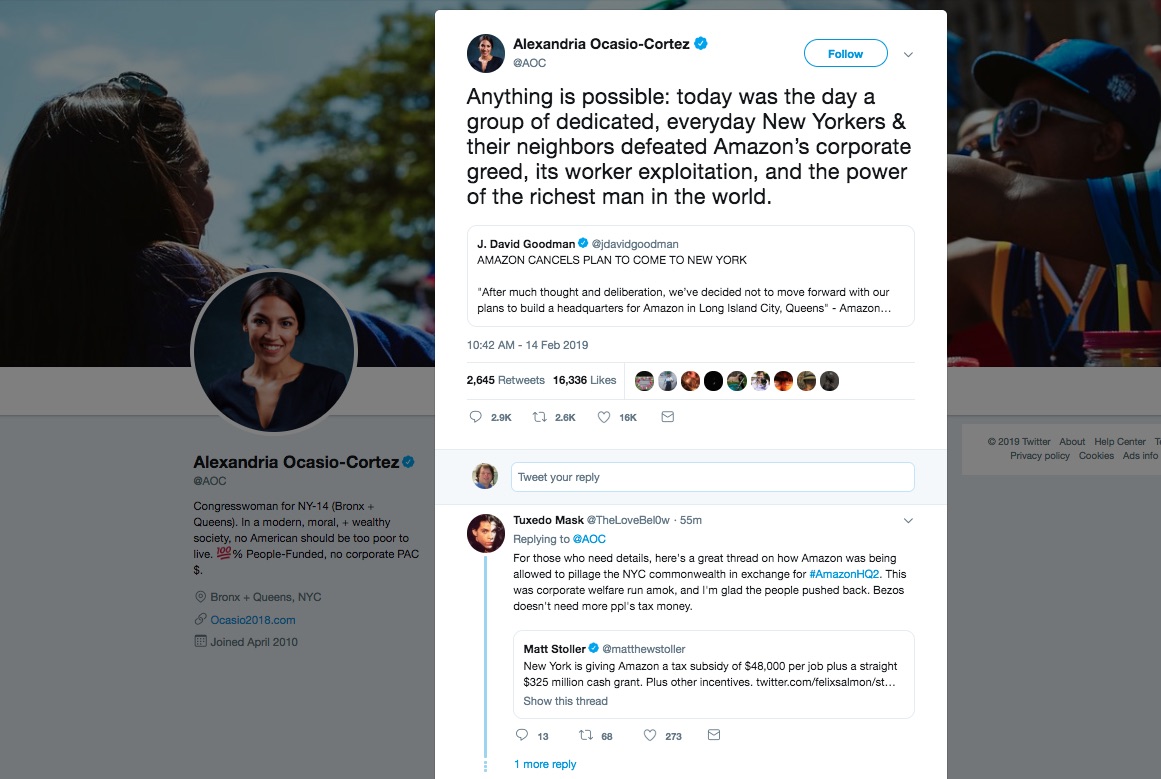 NY Times
Getting back to Amazon ... According to the
NY Times, Representative Alexandria Ocasio-Cortez's win in the 2018 elections emboldened activists who came out in force against the project. The main friction issue seemed to be the subsidy package Amazon was granted.
It is unfortunately commonplace for businesses to demand tax subsidies in order to build a factory or new corporate campus. The companies can, and do, set up competition between cities on how big of a subsidy package will be given.
Amazon was reportedly set to receive $3 billion in "government incentives" (a.k.a. subsidies) to locate in Queens.
The NY Times quotes State Sen. Michael Gianaris, whose district includes Long Island City, Queens, as saying: "Like a petulant child, Amazon insists on getting its way or takes its ball and leaves. The only thing that happened here is that a community that was going to be profoundly affected by their presence started asking questions. Even by their own words, Amazon admits they will grow their presence in New York without their promised subsidies. So what was all this really about?"
Under the plan Amazon was to have built up to 8 million square feet of office space, and house 40,000 workers.
Another issue was that the project circumvented normal land-use processes. How can local jurisdictions make their own land-use decisions when a big corporation can come in and demand something completely different?
Long Island City Post
The
Long Island City Post has more details, being the local newspaper for the affected community.
Reasons for opposing the project ranged from the billions in tax incentives the company would receive as part of its move to Queens, to its potential impact on fueling gentrification and displacement, its labor record, and the closed-door negotiations with the city and state leading to the official HQ2 announcement.
In addition to State Sen. Gianaris, the LIC Post cited opposition from Council Member Jimmy Van Bramer. A statement from Van Bramer said:
"When our community fights together, anything is possible, even when we're up against the biggest corporation in the world. I am proud that we fought for our values, which is a fight for working families, immigrants, and organized labor. Defeating an anti-union corporation that mistreats workers and assists ICE in terrorizing immigrant communities is a victory. Defeating an unprecedented act of corporate welfare is a triumph that should change the way we do economic development deals in our city and state forever."
NYC Mayor de Blasio is quoted saying: "We gave Amazon the opportunity to be a good neighbor and do business in the greatest city in the world. Instead of working with the community, Amazon threw away that opportunity. We have the best talent in the world and every day we are growing a stronger and fairer economy for everyone. If Amazon can't recognize what that's worth, its competitors will."
The location was in the Anable Basin area, bounded by 46th Avenue to 44th Road west of Vernon Boulevard. Going by satellite view, that location is the site of an existing dock and warehouse operation. Given there are cars parked next to buildings, the dock and warehouse are in active use.
The city (Long Island City) had planned to develop that area, perhaps with a "Long Island City Innovation Center".
Amazon's statement
Amazon issued this statement:
After much thought and deliberation, we've decided not to move forward with our plans to build a headquarters for Amazon in Long Island City, Queens. For Amazon, the commitment to build a new headquarters requires positive, collaborative relationships with state and local elected officials who will be supportive over the long-term. While polls show that 70% of New Yorkers support our plans and investment, a number of state and local politicians have made it clear that they oppose our presence and will not work with us to build the type of relationships that are required to go forward with the project we and many others envisioned in Long Island City.
We are disappointed to have reached this conclusion — we love New York, its incomparable dynamism, people, and culture — and particularly the community of Long Island City, where we have gotten to know so many optimistic, forward-leaning community leaders, small business owners, and residents. There are currently over 5,000 Amazon employees in Brooklyn, Manhattan, and Staten Island, and we plan to continue growing these teams.
We are deeply grateful to Governor Cuomo, Mayor de Blasio, and their staffs, who so enthusiastically and graciously invited us to build in New York City and supported us during the process. Governor Cuomo and Mayor de Blasio have worked tirelessly on behalf of New Yorkers to encourage local investment and job creation, and we can't speak positively enough about all their efforts. The steadfast commitment and dedication that these leaders have demonstrated to the communities they represent inspired us from the very beginning and is one of the big reasons our decision was so difficult.
We do not intend to re-open the HQ2 search at this time. We will proceed as planned in Northern Virginia and Nashville, and we will continue to hire and grow across our 17 corporate offices and tech hubs in the U.S. and Canada.
Thank you again to Governor Cuomo, Mayor de Blasio, and the many other community leaders and residents who welcomed our plans and supported us along the way. We hope to have future chances to collaborate as we continue to build our presence in New York over time.