; Date: Fri Jan 21 2022
Tags: Doctor Who
In what may be a silly fan rumor that will go nowhere, there's a claim that a BBC source has said to someone that David Tennant will return to Doctor Who to be The Doctor. This doesn't make much sense, or rather it makes less sense than having Russell T Davies return as Show Runner. Maybe the BBC is desparate?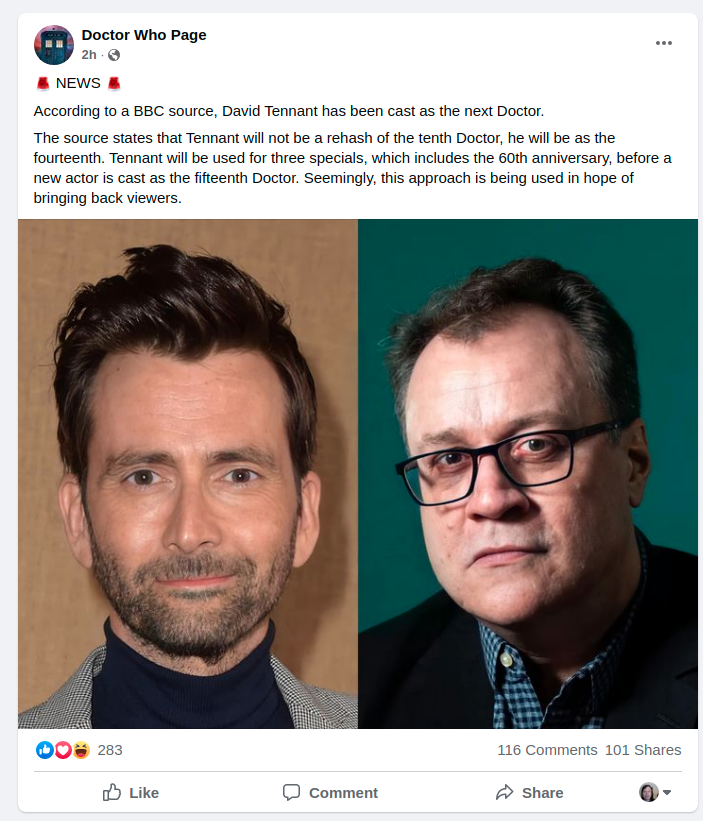 The deal isn't just being as a Facebook post. Actually, it is solely about a Facebook post, but there's a news site (Plymouth Herald) that has written
a news article about the rumor.
David Tennant played The 10th Doctor between 2005 and 2010, taking over from Christopher Eccleston. Tennant's time as The Doctor is greatly loved, and there were lots of fabulous stories told during his time. And as I wrote that, for some reason a big clunker (Love and Monsters) came to mind. Between Eccleston and Tennant, modern Doctor Who got firmly established as A Thing.
If the rumor is true, then it would be the first time where an actor reprised his role as The Doctor. The closest was when Tom Baker suddenly showed up at the end of the 50th Anniversary special, playing a character named The Caretaker. Tom Baker was of course the iconic 4th Doctor. Then, there was Colin Baker who had played a military Guard on Gallifrey before becoming The Doctor. And, there was Peter Capaldi, who played a couple characters in both Doctor Who and Torchwood before becoming The 12th Doctor.
According to the Plymouth Live post, the initial claim came on a Facebook fan page. The poster claimed to have the same source inside the BBC which leaked the casting of Sacha Dhawan as The Master, in series 12. So, it's one of those friend-of-a-friend-who-knows-someone-said-this-thing. So, maybe there's nothing to this.
Consider that the
same site had posted, just two days earlier, talking about folks who co-starred with David Tennant becoming The Doctor. Jodi Whittaker, before becoming The Doctor, had co-starred with David Tennant in the TV Show Broadchurch. The rumor now is that Tennant's Good Omen's co-star Michael Sheen could become The Doctor.
Does that mean Plymouth Live has less credibility, or more credibility? I'm not sure.
FWIW, Plymouth Live has a bit more to say. Namely, that if Tennant returns as The Doctor, it won't be a rehash of The 10th Doctor. Instead he will play The 14th Doctor, and would have the role for three specials before passing the role off to someone who will be The 15th Doctor.
And as long as we're here talking about the numbering - I wish to remind you that these numbers are innacurate: Smith was 13, Capaldi 14, Whittaker 15, how many regenerations does The Doctor have remaining?
So... the way this would work is Tennant would choose a different characterization to play. Sounds interesting, sounds possible, etc. That means he has to avoid saying allon-z-i, right?
But I'm not finding this story to be terribly credible.