; Date: Sat Oct 09 2021
Tags: Doctor Who »»»» Doctor Who Season 13
We now know when Season 13 starts, but do not know show titles, or the schedule. Just that it involves a 'Flux' and a coming wave of Sontarans, Weeping Angels, Ravagers, and who knows what else. Oh, and there's a guy with a Liverpool accent named Dan.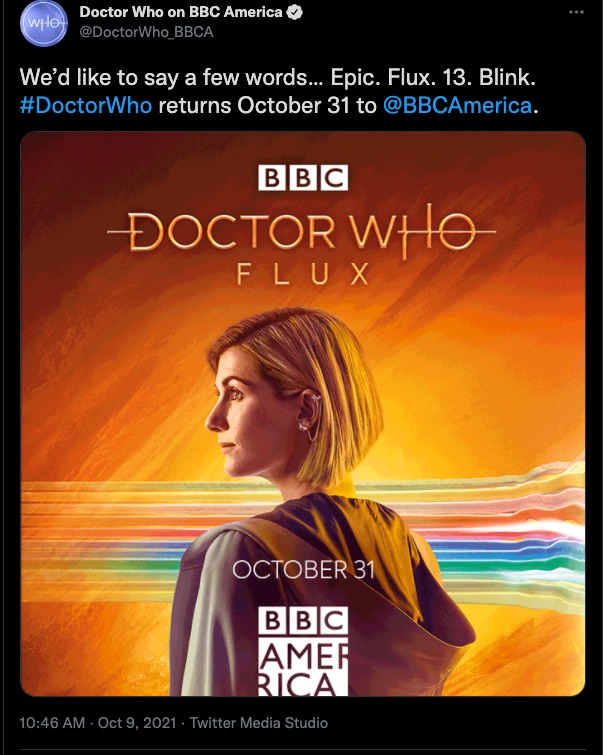 The BBC has been extremely tight-lipped about the upcoming season. We know there will be six episodes in 2021, and three "specials" in 2022, then after that it won't be until November 23, 2023 that Season 14 starts with the 60th Anniversary special. And that special will be led by Russell T Davies who is returning as the Show Runner: Oh my god YES, RTD is back as Doctor Who Show Runner
We now have the above posting on Twitter giving us a date, October 31. And we have a teaser video, below, naming off some adversaries while Yaz and Dan are in the background working some controls on the console.
The most likely schedule for the episodes are:
Sunday, October 31
Sunday, November 7
Sunday, November 14
Sunday, November 21
Sunday, November 28
Sunday, December 5
Those dates cover the six episodes promised for 2021. Then in 2022, the only known date is January 1, 2022, for a holiday special Doctor Who. A further two episodes (specials) are scheduled for 2022, with the last being Jodi Whittakers regeneration scene into whoever takes on The Doctor role from there.
The season 13 episodes are supposed to be one long story arc. This is like the old days where Doctor Who routinely spread stories over multiple episodes. For example, the Trial of a Time Lord spanned an entire season, as did The Key to Time.
The teaser talks about The Flux coming, and it is carrying Sontarans, Weeping Angels, Ravagers, and other creatures. Of course there's no clue what any of that means beyond those bits.
Here's hoping that these Sontarans are not the Comedy Sontarans that Moffatt invented. It was funny, for awhile, but the Sontarans are not supposed to be comedy relief. They're supposed to be warlike and dangerous.
The Flux is Coming... | Doctor Who